Jason Rogers, M.D.
Adult Hip and Knee Reconstruction
General Orthopaedics
Dr. Jason rogers specializes in adult hip and knee reconstruction as well as general orthopaedics.
Rogers is a native of Rome, Georgia and graduated from Rome High School. He attended Berry College on a basketball scholarship before transferring to Auburn University to complete his undergraduate studies. He earned his medical doctorate degree from The University of Alabama School of Medicine in Birmingham, Alabama.
Rogers fulfilled his orthopaedic surgery residency at the University of Arkansas for Medical Sciences in Little Rock, Arkansas, where he developed a special interest in adult hip and knee reconstructive surgeries. He went on to complete his adult hip and knee reconstruction fellowship at the Southern Joint Replacement Institute in Nashville, Tennessee.
He specializes in primary knee surgeries including complex total knee replacement, unicompartmental and patellofemoral replacements and ACL sparing knee replacements. His training included minimally invasive anterior approach for total hip replacement. This unique approach is a tissue­sparing alternative to traditional hip replacement surgery that provides the potential for less pain, faster recovery, greater hip stability and improved mobility as the muscle tissues are spared during the surgical procedure.
Rogers also has extensive revision knee and hip replacement experience. This includes the treatment of failed, infected, fractured, dislocated or painful total knee and hip replacements.
Prior to joining the Center for Sports Medicine & Orthopaedics, Dr. Rogers was a member of the medical staff at Harbin Clinic in Rome, Georgia.
In his spare time, Dr. Rogers enjoys golf, hiking, mountain biking and spending time with his wife, Bonnie, and their son, John Michael.
The most fulfilling part of my job is watching my patients, who were once debilitated by hip and knee pain, return to their normal activities when their pain resolves. – Dr. Jason Rogers
Certifications and Associations
Board Certified
Coming Soon!

Associations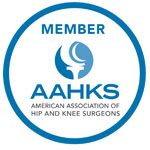 New patient paperwork is completed on our Patient Portal. Please contact our office for instructions and a pin number.

I was very pleased with the caring attitude of the staff and Dr Rogers was very knowledgeable and friendly about my knee.
Dr. Rogers is amazing. I love the newer technology used for total knee replacements. He used a skin bonding glue in place of the old fashioned staples. My recovery time has been pretty quick. He is so encouraging, honest, and professional. Center for Sports Medicine & Orthopedics is so fortunate to have them as part of their team.
Great service in all areas of visit Dr Rogers provided excellent care & easy to understand the care I would need for surgery & future visits. Overall the employees were very professional at the sign in & all during visit.
Dr. Jason Rogers and his staff are caring, professional but treat you as a person not as just another patient. Everyone is helpful and nice. EVERYONE introduced their self and what their job was and what they are going to do to you. I followed Dr. Jason Rogers from Rome Ga. to keep him as my doctor. I love them all and the office in Ringgold. It's ALL AWESOME!
We really appreciate his personal attention to my injury and to my recovery. I feel very confident with the care and information he provided.
Dr. Rogers and his entire staff was very professional, very kind and made me feel like I had come to the right place. Dr. Rogers listen to my problem and then told me he could fix me, in which he did. I highly recommend him to anyone who wants to be healed from their injury.
Dr. Rogers and the entire staff always make me feel at ease, and welcomed. I love this Sports Center. I have seen several Dr's within the center, and I always leave feeling assured that all my concerns were addressed professionally. Thanking everyone.
Dr Roger's did my partial knee replacement . He was very professional, could not have ask for any better care than what he gave. I would highly recommend Dr Rogers to any of my family or friends.
Dr. Rogers is the best! I was so scared going in to see him but after he explained everything I was more than ready to have this much needed and long overdue surgery. Everything he told me was on point even after having the surgery. Let's not forget about the staff!! Omg!! Pure excellence!!! No complaints at all and I also love the patient portal!!! They are very quick to respond. I had the best experience ever. I would definitely recommend them to everyone!!!
He was very informative and explained all areas completely. He was thorough and compassionate, I am really pleased with Dr. Rogers.
Dr Jason Rogers is easy to communicate with and he makes you feel confident in his care and concern. He went above and beyond to inform use about choices and options that we had. Please let him know how pleased we are with the care that he provided and are thrilled with the care we will receive during our future visits and the surgery.
Very professional with a great attitude and a sense of humor. Great guy!
Extremely impressed with the time he was willing take for the appointment and the explanation he provided for my upcoming surgery. He even came back in to the room to answer an additional question I had. His nurse and the staff with whom I met that day were all professional and courteous.
I was very impressed with Dr. Rogers. He was extremely personable, easy to converse with and displayed great knowledge of his profession.
I found the entire staff that I encountered during my visit to be friendly, courteous, informative and communicative.
Jason Rogers , MD is excellent at his job. My daughter has Downs Syndrome and is usually scared of new doctors but Dr. Rogers did such a great job of including her in the conversation instead of ignoring her like some do as if she doesn't understand. He put her at ease and helped her with the shot he gave in her. He is very caring and took his time to make sure she was ok . I really can't thank him enough. There have been very few that really care when it comes to people with special needs and he truly is one of those. I thank God when we find them.