Matt Bernard, M.D.
Total Joint Replacement
Arthroscopic Surgery
Lower Extremity Trauma
Matt Bernard has subspecialty training in hip and knee reconstruction, has authored multiple articles and has presented at local and national conferences. He is Chief of Orthopaedics at CHI Memorial Hospital and is committed to alleviating pain in those with degenerative joint diseases of the hip and knee.
As a native of California, he grew up water skiing and hiking in the southern Sierra Nevada Mountains. In high school, he played football and baseball; he ultimately finding his way to The University of Alabama, Tuscaloosa as a pitcher. At Alabama, Dr. Bernard was a member of the 1997 team that played for the National Championship in the College World Series. Off the field, he earned bachelor's degrees in Chemistry and Biology plus a graduate degree in Exercise Physiology.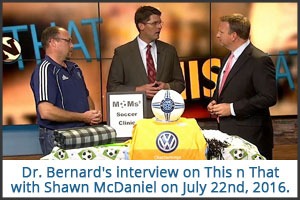 He attended medical school at the University of Tennessee in Memphis. While he began the first few months of his postgraduate training at Tulane, Hurricane Katrina brought him back to Memphis to complete his surgery internship and orthopaedic residency at the Campbell Clinic in Memphis. In residency, he assisted in the care of the St. Louis Cardinals' triple-a affiliate serving as an on-site team physician. He left Tennessee for the adult reconstruction fellowship at Stanford University in Palo Alto, CA, where he was an Omega Grant recipient and served as a clinical instructor in their residency.
After a year in California, Dr. Bernard returned with his wife Sarah to her home on Signal Mountain where they are raising their children Nolan, Caroline & Lilly.
Visit Dr. Bernard's microsite to learn about a new outpatient joint replacement procedure.
We are here to preserve and restore walking in those who suffer from hip and knee pain. – Dr. Matt Bernard
Certifications and Associations
Board Certified
Board Eligible
Associations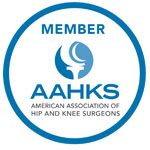 New patient paperwork is completed on our Patient Portal. Please contact our office for instructions and a pin number.
Very friendly and appears very concerned for his patient. I blessed to have Dr. Bernard as my physician.
Dr Bernard's an outstanding physician. I always tell people about him if they are looking for a knee surgeon. I hope I don't need any additional surgery but if I do I wouldn't want anyone other than Dr. Bernard.
Dr Bernard has treated several members of my family…my son, my daughter-in-law, and my grandson. He is simply an amazing Physician and Friend. He has taken excellent care of us all!!!!!
As my ratings reflect, Dr. Bernard is an excellent physician. He has done knee replacements for my wife and brother, and we are all huge fans and recommend him to others.
Comfortable in his shoes, knowledgeable, practical, likable. He's a "10". My kind of doctor.
Without any doubt, Dr Bernard's skill has allowed me to continue in my job, which has reasonably high physical demands. His knowledge in his field of expertise and his ability to convey information allowed me to tailor my recovery to meet the requirements of my employment. And he's just a great guy to talk to.
Dr. Bernard is one of the most compassionate doctors I have ever been to. Great bedside manners. Listens to the patients concerns.
Dr.Bernard made me feel very comfortable and has such a wonderful way of treating his patients. I never worried about my surgery once after he explained everything. I will recommend him to everyone. Thank you very much.
Very prompt loved that. Dr Bernard was very personable. Very good experience. Would send friends to Dr Bernard. Roll tide. Lol
Dr. Bernard is by far the finest surgeon I have had the opportunity to interact with in my life! I have had numerous surgeries over the years and been blessed with fine surgeons but none as compassionate and caring as Dr. Bernard.
He was so personable! So easy to talk to, made my visit a whole lot easier. He will definitely be my" go to guy" for anything ortho related! Thank you!
The whole Team was extremely nice and welcoming! THANK YOU very much for the care you have provided.
Dr. Bernard is fantastic and very attentive to my needs as a patient. I would recommend him without hesitation! Very happy with him.
Dr. Bernard is a very attentive doctor. He's caring and always knows what to do and say that will make you feel and be better. I would recommend him to anyone. I think He's awesome, the best!
He was apologetic for my waiting time. He was to the point regarding my condition, what my options were, and then immediately proceeded to treat my knee. He was cheerful, and talked to me on a friendly basis. He made me feel comfortable.
Very professional, knowledgeable and communicative. Dr. Bernard Is a new doctor for me! He came HIGHLY RECOMMENDED! Very pleased to have him as my Dr.
Matt was attentive, professional, and knowledgeable. I am confident that he is the best choice for my hip replacement.
Dr. Bernard was recommended to me by a friend. Now I know why, he did not recommend any procedure that was unnecessary and thanks to him my knee is feeling better and I would not hesitate to recommend anyone who wants honesty and professionalism.
"I was very impressed with Dr. Bernard's demeanor and professionalism. He explained everything very well; it's hard to find a doctor who demonstrates such genuine care and concern for his patients like Dr. Bernard does."
"I was very pleased with my visit. He explained the reason for my pain instead of making me feel like I am crazy. Thank you!"
"Dr. Bernard was unbelievably good!!! I was so very pleased with his manners and the way he explained everything to me and my husband. He included my husband in the whole process which we both appreciated!"
"This was my first visit. I was impressed with the whole team! Dr. Bernard took the time to demonstrate a new model of knee implant. I didn't feel rushed, he explained what I could expect from the surgery. I feel much better about the knee replacement surgery. Thank you Dr. Bernard and staff!!"
"I really like Dr. Bernard a lot. He is very smart, engaging and a great doctor."
"Very pleased with my visit. I work in healthcare and chose Dr. Bernard due to feedback from co-workers and patients; he didn't disappoint me. This Dr. truly seems to enjoy his job. He took as much as I needed to answer my questions. He informed me of my options and left the decision to me. I am very impressed."
"He is a very personable doctor. He made me feel like I had known him for a long time. His explanations concerning my surgery were easy to understand and I appreciate that. I have complete faith in Dr. Bernard."
"This was my first visit. I was impressed with the whole team! Dr. Bernard took the time to demonstrate a new model of knee implant. I didn't feel rushed, he explained what I could expect from the surgery. I feel much better about the knee replacement surgery. Thank you Dr. Bernard and staff!!"