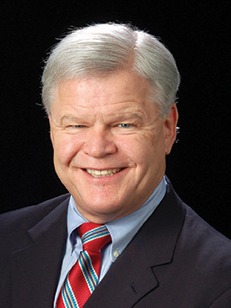 Pat Stone, M.D.
General Orthopaedics
Total Joint Replacement
Arthroscopic Surgery
Sports Medicine
Cleveland, Tennessee has been Dr. Pat Stone's home and place of orthopeadic practice since 1984 when he and Dr. Dan Johnson opened Southeast Tennessee Orthopaedics. With a well established practice and many years of experience as board-certified orthoapeadic surgeons, together they joined the Center for Sports Medicine & Orthopaedics in 2011.
While attending Dartmouth College for his undergraduate degree, Dr. Stone was a member of the Freshman and Varsity Football team where he helped his team win 4 consecutive Ivy League Championships. He then attended The University of Virginia Medical School before completing his general surgery and orthopaedic training at the University of Pittsburgh.
Dr. Stone has been the team physician for Bradley and Cleveland High Schools for more than 20 years. He is a Rotarian and Paul Harris Fellow as well as on the Board of Directors of Cleveland – Bradley Chamber of Commerce. The United Way of Bradley County awarded Dr. Stone the Pillars Club Award and the Division VI Campaign Co.-Chairman Award for his service and donations to the community. Over the years, he has served in many leadership roles in the Cleveland community including being a member of the Bradley Memorial Hospital Foundation, Bradley Memorial Hospital Builders Club, and as the Vice President of the Ocoee Health Alliance.
While Dr. Stone is passionate about his practice and taking care of others, he also enjoys spending time with his wife Barbara and children, Jamey and Jessica, who all reside in Cleveland. Dr. Stone enjoys snow skiing, water sports, hiking, and being on the lake and river as often as he can during the warm months.
It is a privilege to practice orthopaedic surgery, have the opportunity to evaluate a wide variety of patients and deliver non-operative as well as surgical care. – Dr. Pat Stone
Center for Sports Medicine and Orthopaedics' Dr. Pat Stone discusses his practice as a Genera
Certifications and Associations
Board Certified
Associations
New patient paperwork is completed on our Patient Portal. Please contact our office for instructions and a pin number.

"He made me feel comfortable and he inspired confidence. I am glad we met, this was a good choice."
"Dr. Stone explained how he goes about doing an MRI before discussing surgery to make sure he has all the necessary information to pick the best joint replacement for my body. This is much appreciated!"
"I never felt more comfortable with a specialist. Dr. Stone was extremely pleasant and patient."
"I am very pleased with the care I received from Dr. Stone. I think his experience speaks for itself. He is a very knowledgeable and personable specialist. He need more doctors like him."