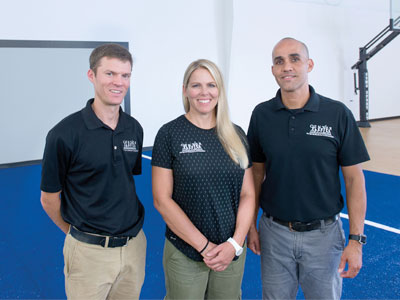 The Center for Sports Medicine and Orthopaedics has been providing athletic health care to Southeastern Tennessee and North Georgia communities since 1985. This community outreach program supplies certified athletic trainers to schools to provide preventive and emergent care and treatment under the supervision of the Center's team physicians.
Currently, the 6 member athletic training staff assists secondary school athletes at Signal Mountain Middle/High School, East Hamilton Middle/High School, Gordon Lee High School, Girls Preparatory School, Meigs County High School, Ooltewah High School, and Silverdale Baptist Academy sports teams. Additionally, the Center's physicians oversee athletic training care at Boyd Buchanan School, Grace Baptist Academy, Chattanooga Christian School, Lookout Valley Middle/High, Sale Creek Middle/High, Soddy Daisy High School, the Chattanooga Lookouts, Chattanooga Football Club, and Chattanooga Locomotion.
Every Saturday since the Fall of 1985, the Center for Sports Medicine has volunteered at the Saturday Morning Sports Clinic to evaluate recent sports related injuries. During this fall clinic, immediate treatment is initiated and follow-up care recommendations are made with the goal of returning athletes to participation as quickly and safely as possible.
The Center for Sports Medicine physicians and certified athletic trainers play supportive roles for the Chattanooga Lookouts Professional Baseball team, the semi-pro Chattanooga Football (soccer) Club, and the Chattanooga Locomotion Football team. The Center's Sports Medicine "team" serves as Clinical Instructors for student athletic trainers attending Lee University and the University of Tennessee at Chattanooga.
The athletic health care training staff regularly provides consultant services and medical coverage for southeastern Tennessee and North Georgia sporting events. To obtain more information on these services, contact Connie Petty at (423) 624-2696.