W. Timothy Ballard, M.D.
Total Joint Replacement
Arthroscopic Surgery
Lower Extremity Trauma
A native of Ohio, Timothy Ballard began his undergraduate studies at Wright State University in Dayton, Ohio. During his four years at Wright State, he received the Dean's List Highest Honors and was presented with five academic scholar awards.
Dr. Ballard then went to Medical School at the University of Cincinnati College of Medicine, where he received the prestigious Top Medical Student Award three consecutive years. After graduation, he served his Residency and Internship at the University of Iowa Hospitals and Clinics.
Dr. Ballard then completed his training at Rush Presbyterian Hospital in Chicago with a Fellowship in Adult Reconstruction.
The Center for Sports Medicine and Orthopaedics brought Dr. Ballard to Chattanooga, where he has become a leader in his specialty of Total Joint Replacement.
It gives me great satisfaction to replace worn joints with ones that will provide patients with years of easy movement. Having a surgical procedure that is successful is one thing. Seeing a patient smile as he walks out of our offices, is another. – Dr. Timothy Ballard
Dr. W. Timothy Ballard is an orthopaedic surgeon with Center for Sports Medicine & Orthopaedics i
Dr. Timothy Ballard, MD of the Center for Sports Medicine discusses knee pain, knee arthritis, as
Dr. Timothy Ballard MD of the Center for Sports Medicine discusses hip arthritis causes and treat
Certifications and Associations
Board Certified
Associations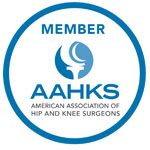 New patient paperwork is completed on our Patient Portal. Please contact our office for instructions and a pin number.

I believe Dr. Ballard is probably the BEST Orthopaedic surgeon in the business. I am well pleased with the outcome of my bilateral knee replacement surgery. I have NO complaints at all!
The most efficient doctor's office I have ever visited.. first visit and I felt right at home!! Thanks, Dr Ballard!! You are awesome. Plus, I received very good news!! A lot of concern and worry put to rest.
I'm so glad I chose to go thru Dr Ballard and center for sports medicine. Thank you for taking care of your patient needs. Physical therapy is going great. Everyone is so friendly, and it makes it so much easier due to the friendly environment.
Dr. Ballard (in my opinion) is simply the best. He takes the time to explain things and to discuss your future plans, he always lets you know that he is there for you should you develop a problem in the future and he always prays the sincerest prayers that comes from the heart and lets you know that he is thinking of you. Simply put; I think he is the greatest.
Excellent interaction…"bedside manner" exemplary. I'm a healthcare professional yet he purposefully insisted on explaining and summarizing at a basic level to ensure clarity.
Dr. Ballard is the best surgeon and the kindest most compassionate Doctor I have ever met. He did a wonderful job on my knee replacement. I love the way he prayed such sweet prayers with me. It makes my heart happy to know that I am being treated by such a fine Christian man. He is a blessing from God for people who need surgery.
I appreciate the care I receive from Dr. Ballard. He nails the difficult task of being totally professional while exhibiting personal and genuine interest in one's needs and best care. I am grateful that Dr. Ballard is my physician in the area of Orthopedic care.
Dr Ballard is an exceptional doctor, thorough, informative, kind and gracious beyond words.
WOW WHAT A AWESOME MAN / HUMAN BEING!!!! He knows my story and how much he means to me. some times you guys don't the whole story. I have always be treated with the upmost respect. I brag about Dr Ballard to any one that i know or don't know that needs surgery.
Excellent visit. Very patient and discussed in detail what my problem was and solutions.
Prompt, compassionate, interested in patient care and explaining surgery in layman terms. Treated sever pain before I left office. He is an excellent Doctor!
My experience with this practice is always great. The staff, front desk, telephone staff, nurses, PA's are all good. Wish more medical offices were run like this one. Dr Ballard is the BEST. I wouldn't see anyone else
The most endearing dr I have met and thank God he put me in his care… I came to him highly recommended and will continue to pass his name on to others .. I am blessed to see such a caring person.
Dr. Ballard and staff were all very professional and with excellent knowledge. I love Dr. Ballard, have been his patient for almost 15 years!
I couldn't be more pleased with Dr. Ballard and all the staff. Thank you for your good care. Everyone made me fell special and cared for.
Dr. William Ballard did an excellent job when doing my knee replacements. He is very professional and caring. I have had two follow up visits since my replacements. I would never choose another doctor for joint replacements.
I highly recommend Dr. Ballad to everyone that needs surgery on their knees or hips. I have a lot of trust in him and my wife and I truly respect his religious attitude. He along with God takes care of his patients. Keep praying with patients, He answers our prayers. Center for Sports Medicine & Orthopaedics have a great staff both doctors, nurses, and staff.
He is simply the best, i owe my life to this man, I trust him fully in my care. Not only is he an excellent doctor and surgeon he is an excellent man. Caring, loving and always makes me feel i am his #1 priority. I feel myself very lucky to call him my doctor
Dr. Ballard is a wonderful surgeon. I recovered from my knee surgery sooner than he expected! I am so thankful to have a new knee that I can walk on without pain. I have recommended him to several other people who are needing knee surgery. Thank you Dr. Ballard and
staff!
Dr. Ballard always had my best interest in mind! Absolutely the BEST !!! I recommend him to everyone who needs a knee replacement.
several of my relatives had good words to say about Dr Ballard. I was pleased that he lived up to their reports of him. I have already recommended Dr. Ballard and shared how wonderful he was on social media. He is a blessing in my life.
Good doctor, refreshes faith in medicine. I was very happy with Dr. Ballard. He is very professional and caring for his patients. He also has an efficient staff that completes patient's needs timely. I was impressed and look forward to my scheduled surgery.
"Dr. Ballard is the most caring doctor I have every known. He is #1 in my book! I wouldn't go to anyone else."
"Dr. Ballard, M.D. far exceeded my expectations as to what a busy physician in a very large practice would and could provide – time-wise, as well as informationally. From the moment he entered the room, he was totally engaged in my situation, including plenty of time to explain my condition, options for treating, and allowing me all the time I needed to interact in discussion with him. I have visited a fair number of doctors in all my years and Dr. Ballard is at the top of the list as being professional and personable. I would recommend my best friends and family with any orthopedic needs to seek the care of Dr. Ballard. Thank you for an amazing experience! This includes his staff as well."
"An extremely competent, knowledgeable and kind gentleman who showed genuine concern for me and answered all of the questions I had. Rarely have I seen a Doctor who I really liked, and appreciated. He was kind, funny, knowledgeable and a real gentleman. A man that I instantly respected."