Radiofrequency Ablation
Candace McKee, M.D.
Interventional Pain Management
Non-operative Spine Care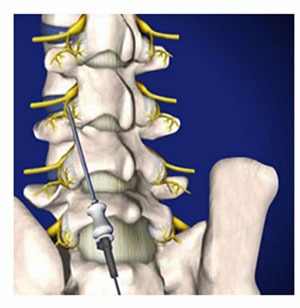 People who experience chronic pain along the spine are in need of a simple, proven treatment to return to life without pain.  Patients who experience chronic pain in the lower back or neck may find the relief they need from radiofrequency ablation, an outpatient procedure that uses radiofrequency energy to disrupt painful signals from the spine to the brain.
Radiofrequency ablation is a minimally invasive procedure that uses a small, specialized needle guided under an X-ray camera to the site of pain. The needle targets the nerves causing the pain and applies radio-wave energy, which creates heat that stuns the nerve, interrupting the painful signal.
The ablation procedure only requires approximately 20 to 45 minutes to complete, and patients return home the same day. Significant pain relief can occur in as little as three weeks, potentially followed by several months to a year of consistent relief from chronic pain.
At the Center for Sports Medicine and Orthopaedics, radiofrequency ablations have granted chronic pain relief to many of our patients. If you are tired of coping with chronic spinal pain, we can help you determine if this procedure is right for you.
Dr. McKee is welcoming new patients. You can schedule an appointment with Dr. McKee by calling (423) 624-2696.