Dr. Benji Miller is a board certified orthopedic surgeon who treats musculoskeletal conditions resulting from injury, overuse, and arthritis. He has special interest in arthroscopy and total joint replacement. His specialties include:
Arthroscopic Knee and Shoulder Surgery
Shoulder Replacement Specialist
Hip Arthroscopy
Total Joint Replacement
Sports Medicine
OrthoBiologics
Dr. Miller hails from Hamilton, Alabama, a small rural town in northwest Alabama. He was drawn to medicine from his early interactions with his family physician, and later became very interested in orthopaedics and specifically sports medicine from his love of sports.
He attended Freed-Hardeman University in Henderson, Tennessee where he received a Bachelor's in Biology. While in college, he lettered in golf. He spent one year of graduate training in rural and community medicine at the University of Alabama prior to entering the University of Alabama School of Medicine where he earned his Doctor of Medicine in 2008.
Dr. Miller continued his education at the University of Arkansas for Medical Sciences where he performed his orthopaedic residency. As a chief resident he received the Dr. Carl L. Nelson Leadership Award as chosen by the faculty.
He completed a Sports Medicine and Arthroscopy fellowship at the Mississippi Sports Medicine and Orthopaedic Center in Jackson, Mississippi. While in training he worked alongside experts in shoulder, hip, and knee arthroscopy, as well as shoulder and knee total joint replacement. He was fortunate to work with very well respected physicians in the field of sports medicine including Dr. Buddy Savoie, an elbow and shoulder specialist, Dr. Larry Field, a shoulder and arthroscopy specialist, and Dr. Walter Shelton, a knee specialist. He was also able to work with Dr. Rhett Hobgood, a shoulder specialist with particular interest in reverse and total shoulder replacement; as well as Dr. Jason Craft, a hip and knee arthroscopy specialist.
During his fellowship he was provided extensive exposure to athletes in all fields of sports medicine. He was heavily involved in team coverage during his time in Jackson and was the team physician for Jim Hill High School and Jackson State University. He currently takes care of athletes in the Chattanooga area.
Dr. Miller has performed clinical research in both his residency and his fellowship, and has presented his research at local scientific and national meetings. He also has a special interest in hip arthroscopy and has served as lab instructor at national meetings teaching hip arthroscopy to other orthopeadic surgeons.
Besides being an orthopaedic surgeon, Dr. Miller is also a devoted husband and father. He and his wife Hannah, a Chattanooga native, have three daughters, Libby, Annie James and Mae. In his spare time he enjoys golf and spending time with his family.
Learn more about your condition by viewing our patient education videos below.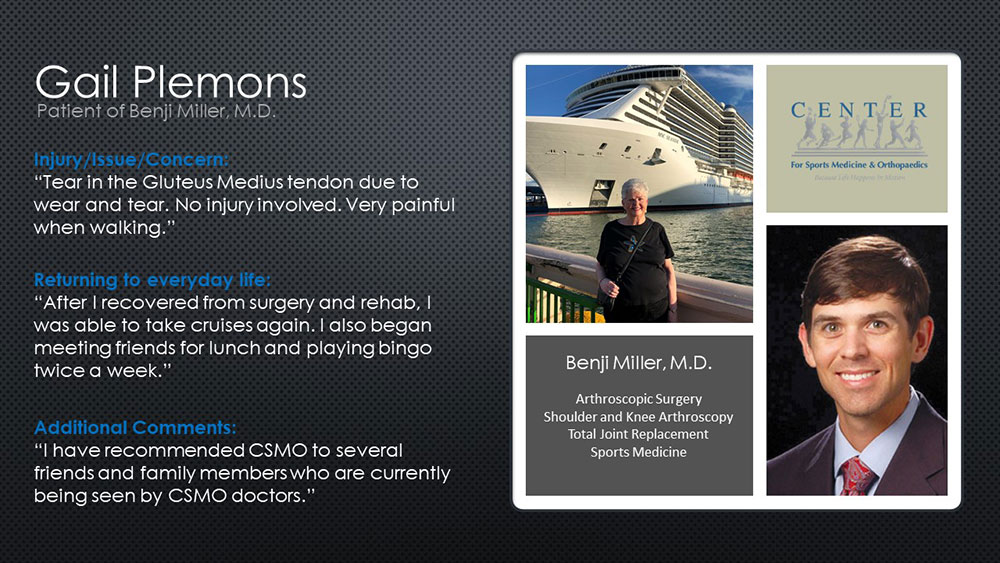 Very professional, very efficient staff. I was not left long to wait. Dr. Miller treated me with utmost care and respect. Feeling better already. Thanks
I appreciate his care for the total person not just my knee, but holistically. Nice to spend time with a doctor who genuinely cares.
Very pleased with my care. He is an awesome doctor and excellent surgeon,
The kindest Dr., very easy to get along with and have any question answered. Dr. Miller has a True calling to help his patients.
We are very happy with the care we have received from Dr. Miller. I have already recommended him to other people.
Dr. Miller was a very compassionate doctor. He is very concerned about his patients. I highly recommend him. If I had known the care provided would have been so superb, I would have been coming here sooner.
Miller seemed to listen to me respectfully and explained next step in a very professional manner. Seemed very confident about approach for treatments available after MRI information.
Great surgeon, very knowledgeable and friendly shows genuine concern.
I have already recommended Dr. Miller to others. I find him easy to speak with and to understand. He is kind, but honest at the same time, about prognosis and possibilities of treatment. I appreciate his ability and compassion.
Dr Miller repaired my hip in October and I have my life back! I "THANK" Dr Miller every time I see him.
This place is amazing. Every aspect…doctors, PT and Surgery Center. Truly blown away by how well I'm treated. Dr. Miller offers excellent patient care and is a skilled physician.
I enjoyed my visit very much. The front desk ladies were delightful, and Dr. Miller helped me understand what was likely going on and what the road to recovery should look like.
Finding Dr. Miller has been life changing for me. He is direct and to the point in a friendly way. Wish more doctors was like him.
I think he is a excellent physician who cares about his patients.
I think he's the best doctor I could have gotten for my surgeries. He is kind, skilled and caring and his staff is wonderful too. [
Dr. Miller did a superb job putting me back together. I am blessed that he was my surgeon.
Very professional and caring. Had the procedure scheduled very quickly. He is an excellent and caring doctor I would highly recommend him
Very attentive, respectful. Great doctor and surgeon. Would highly recommend.
All of the support staff were very kind and caring. Dr Miller continues to listen to my concerns and involve me in my care. He is a wonderful physician and I highly recommend him.
I plan to continue using Dr. Miller for any and all orthopedic problems I have. I plan to recommend him for my friends and family. It is convenient for me that he is at the Kimball office on Fridays.
Dr. Miller is a patient, conscientious and gracious doctor. He always spends as much time as I need and willing to answer my questions. The thing that really impressed me was that he asked to pray with me before my surgery. I'm very blessed to have a doctor of faith.
Dr. Miller is a very likeable, and professional doctor. The staff people are friendly and helpful.
Doctor Miller has been a blessing and has made sure that I was that I was able to walk again he is an amazing doctor thank you doctor Miller God bless you and your staff.
Mr. Miller was very very excellent good and everything I needed to know about the new surgery and when I came out of surgery how will he work with me he was just excellent he cared about my thoughts before his thoughts
Dr. Miller is very attentive and patient. He answered all my questions including ones that did not pertain to my broken foot. If I have to see an Ortho again I will pick Dr. Miller.
Dr Miller is easy to talk to and listens to all concerns. Very personable. Would recommend to any one that has questions or concerns about orthopedic needs.
Dr. Miller was very professional and gave me great medical advice. His staff were also professional and kind. I would recommend him and the practice to others
Dr. Miller is by far one of the best Doctors I have ever seen. He is kind, and always listens to any concerns I may have. I have told so many people, with the same problem I have, about him. Everyone one of his staff have been so helpful with my aftercare. They were always there to answer any questions I had and would always check with Dr. Miller if I needed them to. I can't say enough good things about my experience. He would be the only Doctor I would come back to if I have future problems.
love this man! He is caring, attentive, concerned for his patients and has a unique sense of humor. My family LOVES him. He replaced my brother's hip, repaired my hip and is going to perform rotator cuff surgery on my sister in February. I have a feeling that Dr. Benji will be a part of our family for a very long time. The most impressive thing he did for me during my surgery was ask me if he could pray for me. I thank God for Dr. Miller.
Dr. Miller was very knowledgeable about my condition and offered options to consider. He was very personable and professional. I felt very comfortable with him and will see him again.
Dr. Miller and his office staff are always very courteous when I visit. From the time I walk in the door until I leave I'm treated with dignity. I would recommend his office to anyone.
Dr. Miller is very thorough and attentive. He didn't rush through my appt time. He made sure I understood everything about my injury. I would recommend dr. miller highly.
Great Experience with the Gunbarrel office. Dr. Miller was excellent and the surgical nurses were too. The therapist and staff were fantastic as well!
"Was very impressed with his kindness and professionalism. Very caring attitude."
"I felt like he knew exactly how to fix my problem and I would see him again anytime. He is a very nice Dr. and all the staff there are nice and very helpful too."
"Dr. Miller gave me excellent care before and after my hip surgery. He has great respect and concern for his patients."
"Everyone in the office from A -Z were friendly and helpful. Dr. Miller seems like a very skilled, kind, and professional doctor. My time with him yesterday was superb."
"Although Dr. Miller looks a little young, he is an exceptional orthopaedic doctor and surgeon. He is extremely attentive to my ongoing care. He is professional and teake time to discuss questions or concerns of his patients which is an unusual characteristic these days. I will absolutely recommend him to anyone requiring orthopadic care. Thank you Dr. Miller!!!"
"Courteous & well trained staff. I have recommended Dr. Miller to several of my friends."
"Dr. Miller was very professional and listened intently to my description of my problem. He seemed genuine and nice."
Downloadable Forms
New patient paperwork is completed on our Patient Portal. Please contact our office for instructions and a pin number.