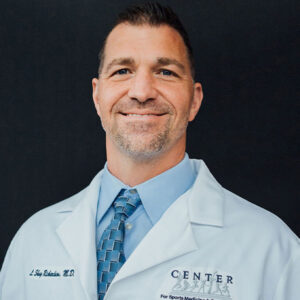 L. Shay Richardson, M.D.
General Sports Medicine & Interventional Musculoskeletal Medicine
Certifications
Subspecialty in Pain Medicine
Dr. Shay Richardson has primary residency training in Emergency Medicine and sub-specialty in Sports Medicine and Interventional Pain Medicine. He is one of the only physicians in the country who holds this unique combination of specialties. He completed his two-year fellowship in Sports Medicine and Interventional Pain at John Peter Smith Hospital in Fort Worth, Texas, the largest Sports Medicine Fellowship in the country, where he was named Outstanding Sports Medicine Fellow. Over the course of his training, Dr. Richardson served as a physician for numerous high school and college programs including the Texas Christian University football and basketball programs. He also served as the event physician for a variety of sporting events including the US Senior Open, the Dayton Air Show and Golden Gloves Boxing. His specialties include:
General Sports Medicine
Interventional Musculoskeletal Medicine
Prior to his fellowship training, he performed his residency training at Wright State University School of Medicine in Emergency Medicine and he completed his Medical degree from the Medical College of Wisconsin. He holds a Bachelor of Arts degree in Biology with a minor in Biblical Studies from Cedarville University.
With his combined training, he is Board Certified in Emergency Medicine, Sports Medicine, and Pain Medicine. His focus with the practice will be Non-operative Sports Medicine and Interventional Musculoskeletal Medicine. Dr. Richardson also assists Dr. Robertson as team physician of the Chattanooga Lookouts.
A native of Ohio, Dr. Richardson was a four-year starter as a college basketball player, scoring over 1000 points during his college career. During his high school basketball career, he received district, regional and state player of the year honors and his high school jersey was retired. Earlier this year, Dr. Richardson was inducted into his high school hall of fame.
Dr. Richardson has three children; Carley, Elyjah and Judah. He and his wife, Candie, live with their children in Hixson. Dr. Richardson enjoys sports, outdoor activities, music and spending time with his family.
Learn more about your condition by viewing our patient education videos below.
I feel very comfortable with Dr. Richardson. He was the first to do a complete exam on me. He was also the first to acknowledge my pain and did not try to diminish it. He answered my questions. He was very approachable, and he seem to care. I would highly recommend him to others.
Dr. Richardson is a knowledgeable physician and it is obvious that he has the patient's (me) care as the uppermost object. He has been extremely helpful in addressing my needs.
Dr. Richardson, has always been courteous, knowledgeable and informative. He spends adequate time with, examining and recommending necessary treatment as well as explaining each procedure. I feel comfortable discussing my medical condition and seeing Dr. Richardson for my Back and Lumbar Fusion ongoing treatment.
Dr. Richardson is a fine example of a patient centered physician. I would recommend him to anyone!
Great experience. He took ample time with me and addressed all of my questions. Thanks for seeing me as a walk in!
Best Doctor I have found to help me keep my pain under control without using pain meds!
I tell people who are in pain to go to the Sports Medicine Center for relief and an accurate diagnosis. The walk-in aspect is convenient but I request Dr. Richardson since he has helped me manage plantar fasciitis for five years.
Dr. Richardson is great! Very nice and personable which I find important when dealing with the medical profession.
Dr. Richardson treats me in a very respectful manner. He never seems to be in a rush and yet I know he has other patients waiting. I am always very pleased with the time he spends with me.
Seems knowledgeable and very competent. Asks questions and listens to answers while making eye contact, which is important. Seems more compassionate than most doctors. Asked pertinent questions about other aspects of my health that might be related to the problem I was seeing him about.
It is very comforting to see a doctor who is willing to take the time to explain whatever doubts you have, and is so caring…
Dr Richardson is very caring and kind. His hands on care was perfect and his manner was exactly what we hope to receive. My highest recommendation for him is given. Also, all support staff interaction was fantastic! The scribe was great very sensitive and smiley. X‐Ray was gentle and kind. His assistance staff very very good. Thank you. All the choices we have to use and we found the best! Yay!
My first visit with Dr. Richardson. Excellent communicator, seems genuinely concerned, extremely thorough exam, very comfortable visit. Would recommend him!
Fantastic Doctor, Would see him anytime regarding Sports or other injuries.
I appreciate the care and professional attitude Dr. Richardson took with me and my concerns regarding procedures to relieve my back pain. I have already recommended him to friends
I wish Dr. Richardson had a great many specialties, so I would not need to go anywhere else. He is concise, precise, matter‐of‐fact without being unkind or rude, and one gets the feeling that the proper job will get done. And, indeed, it was. I am in better health now than I was before my complaint even started because of the remediation he recommended. One cannot do any better than that.
Dr. Richardson is a very approachable care provider. He made me feel comfortable and at ease. He answered my questions respectfully and explained in terms that I understood.
Dr. Richardson is always very professional while remaining down-to-earth, so I feel like I can really talk to him and ask questions about my healthcare. He always gives me a chance to ask questions at the end of our visit which I really appreciate.
He is a great Doctor who cares for the patient. He has a great team of nurses to compliment his skills.
Dr. Richardson has all the qualities one needs to be successful as a medical provider especially a good bed side manner.
Seemed very competent, made me feel at ease, acknowledged everyone in the room, came highly recommended.
Dr. Richardson was very professional, courteous, and attentive my medical problem. Very satisfied with this visit. All staff very efficient and helpful.
I am pleased with the staff and physicians at Center for Sports Medicine. I've been seeing these Dr's and PT staff for years. They have been very helpful to me through my many struggles and surgeries. Thank you
I found Dr. Shay Richardson to be friendly informative competent knowledgeable kind interested in my welfare supportive and professional. I am pleased with the session.
Dr. Richardson was very attentive and a very knowledgeable physician.
He has always been very caring, professional & treated me with the utmost respect. I think he is one of the best doctors I have ever seen. I have all the confidence in the world in him. I have recommended him to several of my friends & will continue to do so.
He is very knowledgeable and kind. He cares about his Patients and give you the best care possible. He's a great Physician. I have already recommended Dr. Richardson to my friends. I love the Center and all the doctors I have seen there!
He was very nice. Explained everything well. His nurse was really good at keeping us informed on what was going on as they got records from another doctor.
Dr. Richardson is fantastic. He listened to me. He is trying his best to help me. I call him my Superman.
For many years, Dr. Richardson has provided me with expert, personal, and supportive care. I totally trust him and rely on him to help me remain healthy. Many thanks to Dr. Richardson.
Dr. Richardson was very professional, had great bedside manner, took the time to listen to me and my ailments, he explained the x-rays to me. He then made a recommendation for treatment. He explained the procedure very well. The entire staff was very cordial and friendly I would definitely recommend Dr. Richardson
He is great i would not see anyone else!!!
"I have had excellent results with Dr. Richardson & have the utmost confidence in him. I feel so confident that I have told all my friends about him and I recommend him to anyone that says they have a back problem."
"Dr. Richardson and his staff were extremely nice and pleasant. It is a pleasure to come to the doctor for a problem and have it taken care of by caring people."
"He is a good man. Easy to talk to and concerned about my back and Kentucky basketball. 😊 "
"Dr. Richardson and his staff were all very professional, courteous, knowledgeable, and communicated well. When I left the office I completely understood my diagnosis & treatment plan. My overall experience was excellent!!"
"I was very impressed with Dr. Richardson and Jordan, his nurse. He listened to my concerns and took them into consideration."
"The most well ran clinic that I have ever had to visit!"
"Dr. Richardson was extremely personable and kind. After being told my injury was "nothing" at the ER, Dr. Richardson was quite upset for me. He recognized my pain and injury as a something of importance, whereas the night before at the ER I had been brushed aside. Dr. Richardson was very thorough in his examination of my knee. He helped keep the environment friendly and less intimidating, as doctors often can seem."
Downloadable Forms
New patient paperwork is completed on our Patient Portal. Please contact our office for instructions and a pin number.