Dr. Todd Grebner has a broad range of expertise and experience as an orthopaedic surgeon, a physical therapist and as a distinguished member of our nation's military forces. His specialties include:
General Orthopaedics
Sports Medicine
Arthroscopic Surgery
Total Joint Replacement
Hand Surgery
A native of Illinois, he grew up in a small farming community before attending the University of Illinois where he graduated with honors. He then moved south where he completed his Masters degree in Physical Therapy at the University of Alabama in Birmingham. After specializing in orthopaedic and sports physical therapy for 4 years, he was accepted into Medical School at Midwestern University in Chicago.
In medical school, Dr. Grebner was honored by his peers to serve as the Class President all four years and as the recipient of the Dean's Commendation Award for exemplary performance as a medical student and for his dedicated service and commitment to the community and the university.
He completed his Internship and his Residency in Orthopaedic Surgery at Ohio University where he was awarded Outstanding Intern. While in Ohio, he had the privilege of receiving additional sports medicine training working with the Cincinnati Reds team physician; he also had foot and ankle surgical training working with the Cincinnati Bengals medical team. He received additional trauma surgery training at Tampa General Hospital in Tampa, Florida.
Most recently, Dr. Grebner moved from Wichita Falls, Texas where he was stationed at Sheppard Air Force Base serving active duty as a Lieutenant Colonel in the United States Air Force. During his military career, he received the Distinguished Graduate/Honor Flight member award in Officer Training School and the Meritorious Service Medal for outstanding achievement and distinguished military service in a level of high responsibility. Dr. Grebner served our country overseas in Operation Enduring Freedom where he was the Chief Orthopedic Surgeon for the 379th Expeditionary Medical Group.
Dr. Grebner is a board certified orthopaedic surgeon and a member of the American Osteopathic Association, the American Osteopathic Board of Orthopedic Surgeons and the American Academy of Orthopaedic Surgeons. He enjoys family time, physical fitness, classic cars, anything football and country music. He and his wife, Marcie look forward to settling into the community with their young son, Colten.
Learn more about your condition by viewing our patient education videos below.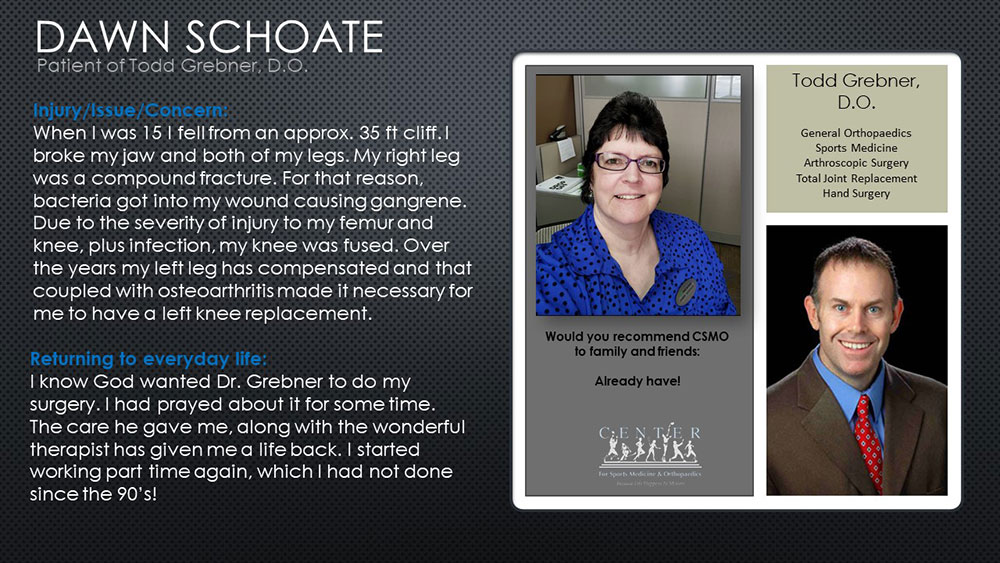 I am thoroughly impressed with the Center For Sports Medicine, Dr. Todd Grebner and the entire staff. I'm so impressed that I also left a review at Google Maps from my experience. I have 100% trust and faith in the care I was provided and will certainly tell everyone I can about my positive experience.
Dr. Grebner was very respectable and patient with me. I enjoyed my visit and have already recommended him to others.
Dr. Grebner was thorough and attentive, listening carefully to what I had to say and repeated it back to me to make sure he understood my issues. He did not try to sway me one way or the other regarding my treatment and let the decision be mine (specifically pills vs shot). It was late when he was finally able to see me (nearly 2 hrs) but he was very apologetic and did not rush me. Very personable and friendly.
I appreciate all the staff's friendliness and professionalism. I have used 2 of your doctors: Grebner and Ballard. My experience has been top notch with Center for Sports Medicine.
I found my visit with Dr Grebner to be very informative, encouraging and relaxing. Just two days after my visit I am already feeling much improvement from medication prescribed.
Dr. Grebner is professional and compassionate. He is a good listener and takes time to explain things, so you understand the procedure and recovery. He is patient and gentle in the way he talks and listens. He will take the time to fully answer and questions and concerns.
Dr. Grebner is amazing. He has a great personality; very good professional and I always leave feeling I got great care. I always recommend Todd to anyone I know that has a sport medical issue.
Dr G. Was excellent. Very personable, professional and effective in his treatment
Very professional and knowledgeable of exactly what was ailing me, treated with best treatment and recommend follow up visit to make sure treatment worked.
Dr. Grebner was great and offered a few different solutions for my issue. He spent a lot of time with me and made me feel comfortable in my decisions for treatment.
He is awesome and explains everything in a way I can understand. He is one of the most caring doctors I have ever been to.
I have recommended him and actually have a friend who is scheduled with him for next week. Excellent experience all around.
Not sure I could say enough kind words about Dr. Grebner. He was fantastic! He took the time to listen to my daughter and make sure her and I both understood. He was funny and kind and seemed very knowledgeable. He would certainly be the FIRST person I would recommend to anyone else. Wish there were more physicians like him!
My visit was very pleasant. Dr was very knowledgeable. I could understand what he was saying. I felt very comfortable in his office. Before he came in, the medical staff treated me well. The reason why it was 30 minutes from my appt to when I saw the doctor, was the fact that I had X‐rays. I definitely would recommend this medical facilities to anyone.
I respect him for his expertise and appreciate his compassionate treatment of my health needs. I also enjoy his sense of humor.
He was absolutely great!! From my visits with him before we found out I had a fracture hip, to the surgery, and to the follow up. I am recommending him to everyone I know.
Dr. Grebner has been excellent with treatment, explanations, and patient care. He treats his patients with respect and gentleness.
Thank you and your staff for being cheerful and friendly and kind. Your instruction and thoughtful care and treatment were greatly appreciated. Thank you!!!
I have never met a more caring, polite and knowledgeable Doctor. I appreciate that he takes time to get to know me. He has a wonderful staff that is very polite. They all treat me with dignity and respect.
Dr Grebner is a great Dr. very nice and personable. You can tell he really cares about his patients.
He is the best! I felt that Dr. Grebner handled my visit professionally & answered all of my questions.
Dr Grebner is great!! Every visit he makes me feel better! He shows care and concern and is very easy to talk with
Very professional, easy to talk to and a good christian man. Will recommend him for future patients!
He is the best Dr. ever we are Blessed to have him here!! Thanks for all you do for us!
Dr. Grebner can bring a scary situation into an area that you as a patient can understand and move closer to goals of improvement. I would recommend him highly to anyone needing help with their orthopedic care. He is very personable and does not talk over your head in doctor speak.
Dr Grebner, and his staff are excellent. I would recommend him 100 percent
Wonderful doctor…very concerned…takes his time and listens at the office and the hospital…good religious gentlemen…my husband has had 3 major surgeries and on his 4th…and he will not even think of going to anyone else…and neither do I !! Thank You Dr. Grebner and your staff….you help us feel better than a family member :‐﴿
This will be the third time Dr. Grebner has performed surgery on me. I recommend him highly to people. We have the utmost respect for him and his abilities
Overall very good experience, he is very patient and caring. I have recommended Dr. Grebner and will continue to do so.
Dr. Grebner is always personable and helpful. He cares about his patients. My husband and I have recommended him to many of our friends.
Dr. Grebner was very professional and very personable. He showed an interest in what I was telling him and was very helpful in making a decision about how to proceed. I would recommend him to friends.
As busy as he was, he took the time to explain my shoulder symptoms and a path to recovery. I felt like I made the right choice in a doctor, as the previous doctor from a different practice just told me to keep taking pain killers and live with it. Thank you for the care and service you provide.
Dr. Grebner is a wonderful caring man. He made me feel so comfortable. I wouldn't want to see anyone else but Todd.
"The best experience I have ever had at a medical practice! Great Job!"
"I appreciate Dr. Grebner and his staff, they are excellent people."
"Dr. Grebner is the perfect blend of professionalism and personal care. My whole experience with him and Center for Sports Med was excellent."
"This was the best doctor visit experience I have ever had; He was respectful, knowledgeable and caring. Which is rare to find a doctor with All of these traits."
"Love his personality. He made me feel comfortable"
"Dr. Grebner was very informative of the procedure before my surgery. The follow up was excellent.. I would recommend him to friends and family. I thank God for having him in the right place for me."
"I felt very comfortable with Dr. Grebner. I am so thankful that we have great doctors like him in Cleveland."
"I recommended him to my whole church. They are also very happy with his care, bedside manner and ability to talk with you and not down to you. He is excellent, great at his job, he is so knowledgeable and genuinely cares about his patients."
Downloadable Forms
New patient paperwork is completed on our Patient Portal. Please contact our office for instructions and a pin number.