Jason Rogers, M.D.
Adult Hip and Knee Reconstruction
General Orthopaedics
Dr. Jason rogers specializes in adult hip and knee reconstruction as well as general orthopaedics.
Rogers is a native of Rome, Georgia and graduated from Rome High School. He attended Berry College on a basketball scholarship before transferring to Auburn University to complete his undergraduate studies. He earned his medical doctorate degree from The University of Alabama School of Medicine in Birmingham, Alabama.
Rogers fulfilled his orthopaedic surgery residency at the University of Arkansas for Medical Sciences in Little Rock, Arkansas, where he developed a special interest in adult hip and knee reconstructive surgeries. He went on to complete his adult hip and knee reconstruction fellowship at the Southern Joint Replacement Institute in Nashville, Tennessee.
He specializes in primary knee surgeries including complex total knee replacement, unicompartmental and patellofemoral replacements and ACL sparing knee replacements. His training included minimally invasive anterior approach for total hip replacement. This unique approach is a tissue­sparing alternative to traditional hip replacement surgery that provides the potential for less pain, faster recovery, greater hip stability and improved mobility as the muscle tissues are spared during the surgical procedure.
Rogers also has extensive revision knee and hip replacement experience. This includes the treatment of failed, infected, fractured, dislocated or painful total knee and hip replacements.
Prior to joining the Center for Sports Medicine & Orthopaedics, Dr. Rogers was a member of the medical staff at Harbin Clinic in Rome, Georgia.
In his spare time, Dr. Rogers enjoys golf, hiking, mountain biking and spending time with his wife, Bonnie, and their son, John Michael.
The most fulfilling part of my job is watching my patients, who were once debilitated by hip and knee pain, return to their normal activities when their pain resolves. – Dr. Jason Rogers
Certifications and Associations
Board Certified
Coming Soon!

Associations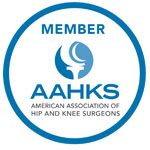 New patient paperwork is completed on our Patient Portal. Please contact our office for instructions and a pin number.