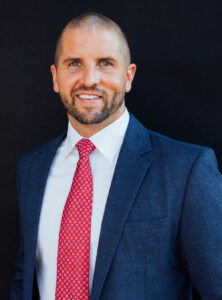 CSMO is pleased to announce that Dr. Kyle Kesler, fellowship trained orthopaedic spine surgeon has joined our team!
Dr. Kesler is a highly trained adult and pediatric spine surgeon who treats the full scope of spine conditions, with an emphasis on decompression, motion preservation and fusion procedures.  Dr. Kesler will serve the needs of Chattanooga and the surrounding area from CSMO's McCallie office and performs surgery at CSMO Surgery Center, CHI Memorial and Parkridge Medical Center.
"We are very excited to welcome Dr. Kyle Kesler to CSMO and to gain the expertise of another highly skilled, yet conservative spine surgeon. Dr. Kesler was highly recommended to us before he began his spine surgery fellowship more than a year ago, and we firmly believe the highest quality physicians are worth the wait," says CEO Becky Farmer. "He and Dr. Benjamin Geddes share a similar philosophy that surgery isn't always the starting point, which fits perfectly within our program that includes specialized physical therapy and the complete range of non-surgical treatment modalities. I'm confident he will make an outstanding addition to our spine team, which will allow us to expand our footprint in the tristate area and offer a comprehensive approach to spine care to more people in our market."
Dr. Kesler earned his bachelor's degree in mechanical engineering from Utah State University before pursuing medicine. He attended medical school at Vanderbilt University School of Medicine in Nashville where he was a member of the Alpha Omega Alpha (AOA) Honor Society. After medical school, Dr. Kesler then completed a 5-year orthopaedic residency at the University of Iowa Hospital and Clinics in Iowa City, Iowa, where he earned several honors, including being named resident teacher of the year.
Dr. Kesler's final year of training was spent in a spine surgery fellowship at Norton Leatherman Spine Center in Louisville, Kentucky. There he trained under both orthopaedic spine surgeons and neurosurgeons, exposing him to a diverse set of surgical techniques. Dr. Kesler particularly enjoys employing the full range of surgical options available to spine surgeons –like large open procedures for scoliosis and minimally invasive microsurgery techniques that employ specialized robotics and navigation technologies. It's this variation and opportunity to perform such a diverse set of procedures that drew him specifically to orthopaedic spine as a subspecialty.
During this fellowship, Dr. Kesler also authored several nationally and internationally published presentations and papers focused on the impact of spine surgery and its ability to help improve the quality of life for patients. He is a resident member of the American Academy of Orthopaedic Surgeons, the North American Spine Society, and the Orthopaedic Research Society, an organization focused on advancing orthopaedic research through education, collaboration, communication and advocacy.
"I am very conservative when recommending surgery to my patients and believe it should be the last resort. CSMO's spine program includes expert physicians, midlevel providers and specially trained physical therapists who focus on the right non-surgical options to help patients delay or avoid surgery and help them get back to an active life," says Dr. Kesler. "But when surgery is the right choice, our spine team provides the very best care. They have a great vision for delivering top outcomes and value to patients, and I'm ready to contribute to it and a be a part of the team."
To schedule an appointment with Dr. Kesler, please call (423) 624-2696.