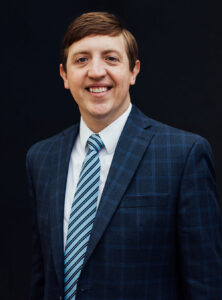 Center for Sports Medicine & Orthopaedics is pleased to announce that Dr. Joshua Lawson, fellowship trained, board certified orthopaedic surgeon has joined our team as a total joint specialist. Dr. Lawson will see patients at CSMO's McCallie and Parkridge offices beginning February 1, 2023 and will perform surgery at CSMO Surgery Center and Parkridge Medical Center.
Dr. Lawson is an experienced joint replacement surgeon who treats a wide range of adult orthopedic conditions, with an emphasis on knee and hip replacement as well as complex revision surgery. He also performs robotic assisted knee replacement.
Dr. Lawson is a Chattanooga native, graduating from Hixson High School in 2005 and attending Lee University on a golf scholarship while pursuing his bachelor's degree in Biochemistry. He earned his medical degree from the University of Tennessee College of Medicine, in Memphis, TN, and completed a 5-year orthopedic surgery residency at the Medical College of Wisconsin in Milwaukee.
After medical school and residency training, Dr. Lawson then completed fellowship training in complex and revision hip and knee replacements under the direction of Dr. Arthur Malkani at the University of Louisville. During this fellowship, he also authored several nationally published presentations and papers on joint replacement surgery.
Dr. Lawson is certified by the American Board of Orthopedic Surgery and is an active member of the American Academy of Orthopaedic Surgeons, American Academy of Hip and Knee Surgeons, International Congress of Joint Reconstruction, and the AO Foundation, a non-profit organization dedicated to improving care for patients with musculoskeletal injuries.
"There are numerous reasons I'm excited about the opportunity to join Center for Sports Medicine & Orthopaedics, but I'm most excited to join this team because it is the premier orthopaedic practice in our region," Dr. Lawson says. "It has so much to offer my patients as well as me professionally for the remainder of my career."
Total Joint Replacement at CSMO
CSMO has helped thousands of people eliminate pain, regain movement and get back to living life to the fullest with total joint replacement. Our team includes experienced and highly skilled orthopaedic specialists, backed by an outstanding support team. Learn more about CSMO's total joint replacement options here. To schedule an appointment with Dr. Lawson, call (423) 624-2696.