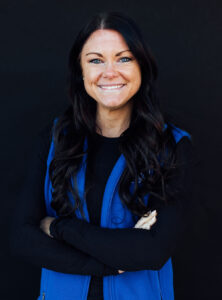 C4 Sports Therapy is excited to welcome Sara Anne Fairbanks, CPT, FNS, certified personal trainer, to the Performance Training Team. Sara Anne was born in San Diego, California and raised in Cleveland, TN, where she attended Lee University. She is a Certified Personal Trainer (CPT) through the National Academy of Sports Medicine and Certified Fitness Nutrition Specialist.
Before joining C4 Cleveland, Sara Ann started her training journey in a private studio, then owned and operated her own personal training studio in the Cleveland area for the last few years. Her husband is also a strength and conditioning coach, and health and fitness have always been very important parts of her life.
"I love personal and performance training. I'm honestly inspired to do my job by God, who gave us incredible bodies to move and work and do amazing things – we just have to be willing to put in the work to see what we're capable of," says Sara Anne. "My favorite thing about being a coach is watching my clients advance and transform physically and also mentally. Seeing my clients prioritize their health and fitness is one of the best parts of what I do, and I'm so excited to begin training for C4!"
Sara Anne will be working with personal and performance training clients at our C4 Sports Therapy – Cleveland location at 2399 Parker Street NE, Suite C3, Cleveland, TN 37311. Please call (423) 697-8844 to schedule an appointment.