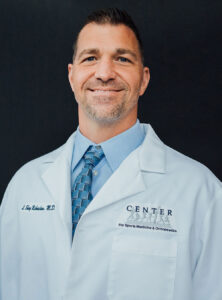 L. Shay Richardson, M.D.
General Sports Medicine
Interventional Musculoskeletal Medicine
If you suffer from back pain, no doubt you spend a lot of time trying to figure out what to do about it! Like so many, the idea of surgery is not something you want to consider unless absolutely necessary.
The good news is there are non-surgical back pain treatment options available. Dr. Shay Richardson, fellowship trained sports medicine and interventional pain management physician, talks with Julie at 3 Plus You about spinal ablations and the newest advances in technology now available at Center for Sports Medicine & Orthopaedics.
"At the root, spinal ablations are a minimally invasive procedure that allow us to use heat to cut some of the nerves that are causing pain with the goal of interrupting pain signals to the brain," says Dr. Richardson. "Ablations are commonly used to treat chronic pain and conditions such as arthritis of the spine (spondylosis) and sacroiliitis. It is also used to treat neck, back, knee, pelvic and peripheral nerve pain. The benefits include avoiding surgery, immediate pain relief, little to no recovery time, decreased need for pain medication, improved function, and a quicker return to work and other activities."
New Advancements in Technology
CSMO now offers Intracept, a minimally invasive procedure to treat vertebrogenic pain, a distinct type of chronic low back pain linked to degenerated discs in the spine. Intracept is a proven durable treatment option for the relief of chronic low back pain. The procedure targets a specific nerve within the vertebra called the basivetebral nerve that has been shown to improve function and relieve pain long term. Intracept is for axial low back pain (or pain that is located only in the low back) and does not radiate down the leg.
"We're very excited about offering this new non-surgical option for back pain. Intracept is for people with chronic back pain who have failed other conservative treatment options like medication, physical therapy, and other types of injections," says Dr. Richardson. "Currently, the procedure is covered by Medicare, but CSMO also offers self-pay pricing if insurance coverage is not available."
To schedule an appointment with Dr. Richardson, call (423) 624-2696.