Chronic pain is a condition that affects 1 in 5 people in the United States. It's characterized by mild to intense pain that doesn't go away as expected after an injury or illness. It might be shooting, aching, burning or throbbing pain, or you may feel tight, sore and stiff in one or multiple parts of the body.
While chronic pain is common and debilitating, it can also be tricky to treat – and hard on an individual's mental health. This can be compounded when it feels like nobody believes them. One way to address the hidden stressors of chronic pain is through acceptance and commitment therapy.
What is ACT?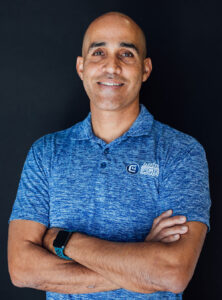 Acceptance and Commitment Therapy (ACT) is a mindfulness-based therapy that focuses on the connection between the mind and body using a biopsychosocial model. This model emphasizes the interconnection between biological, psychological and other social and environmental factors. The techniques help patients accept what is beyond their control so they can get back to the activities they love with a new perspective, adding to their overall quality of life.
"Dealing with chronic pain can be a major reason for a person to not spend the time on the things that are most important to them. That can be family time, personal time, exercise time, spiritual time, or a combination of these activities," says Pablo Alvarez, MPT, ACT certified physical therapist at C4 Sports Therapy. "ACT is very effective in helping people disassociate from past experiences and help them open up to resuming activities they haven't been able to do for some time."
How does ACT work?
ACT stems from cognitive and behavioral therapy and encourages patients to accept their situation and set realistic goals. Chronic pain can lead to hopelessness and depression, as well as frustration when treatment options don't alleviate symptoms. But when patients learn to address their pain on a cognitive level, they can avoid the fear that leads to limitations. Breaking free of mental barriers can make life more manageable and improve physical health along the way.
"One thing I want patients to know is that having pain is not your fault. Your brain is just doing what it is designed to do. ACT helps you understand your pain, gives you new strategies, and helps shift focus to return to what you find valuable in life," says Brandy Parker, DPT, ACT certified physical therapist with Center for Sports Medicine & Orthopaedics. "Working with people who have been limited by pain for extended periods of time and seeing them get their life back has been a rewarding part of being a physical therapist."
What to Expect?
Before starting ACT, your physical therapist will talk to you about your history of chronic pain. When did it start, where does it occur, and what other treatment options have your tried? From there, they'll perform a musculoskeletal evaluation to determine the precise origin of the pain. Together, you'll discuss the factors that influence your condition, like weather, temperature and your autoimmune health. All of this helps your PT – and you – fully understand your pain so the acceptance therapy can begin.
The main focus of ACT is to help you return to the things you value doing in life. Through this compassion, non-judgmental and mindful approach, you can find peace in your situation and get back to the life you once enjoyed.
If you are suffering from chronic pain that has not responded to treatment, help is available. Call (423) 624-2696 to schedule an evaluation with one of CSMO's ACT certified physical therapists.