Center for Sports Medicine & Orthopaedics is integrating a new Electronic Patient Sign In technology at our McCallie Avenue location beginning Friday, August 18th.
Medical self check-in kiosks are a convenient way for patients to check in for their appointment and are part of our ongoing efforts to provide a better patient experience. They are also a safe and secure way to ensure patients' medical information is protected under the Health Insurance Portability & Accountability Act (HIPAA). Kiosks are located near the entrances, instead of at the front desk. They make the check in process fast and easy – and help ensure we are protecting our patients' financial and personal health information.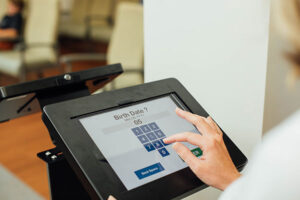 To check in, simply type in your name, date of birth, and phone number. This will alert our staff you're here and place you in queue.
When you receive a text saying it's time to complete your check in, go to the corresponding number at the front desk. One of our team members will be happy to assist you!
Thank you for your patience as we incorporate this new system and work to improve the privacy and efficiency of our check in procedures!